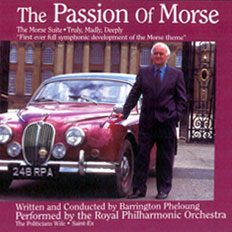 This text will be replaced by the flash music player.
THE PASSION OF MORSE

Performed by the Royal Philharmonic Orchestra, this album features full symphonic development of Barrington's favourite film and TV scores, including the Cello Suite from Truly, Madly, Deeply and The Morse Suite.

Tring International Plc, Catalogue Number: Tring003
1997.
Buy Online:
/ Amazon